Powwow Etiquette
A Powwow is a social gathering as well as a sacred event.
If you have never attended a Powwow before, observing a few simple guidelines can enhance your understanding and enjoyment of the event.
Please be courteous about taking pictures. Ask before you snap. Listen to the MC; he will announce when pictures are not to be taken.
Please respect the dance arena as a holy place.
Do not allow your children to play in the arena.
Benches are reserved for the dancers and special guests.
Please stand, if you are able, and remove your hat or cap for honor songs such as the Grand Entry, the Flag Song, Veterans' Songs and when the MC requests it. An exception is made for those with eagle feathers on their hats or caps.
No violence, weapons, drugs or alcohol are allowed on the Powwow grounds.
No pets, please.
The dancers wear regalia while they are dancing, not costumes. Please do not touch the dancers' regalia or feathers.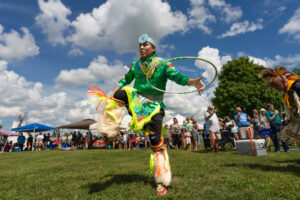 Explore Native Art, Culture, History & Music
Saturday- Sunday September 7-8
Cost
Adults: $8
Children 8 & Under: FREE
Tickets available at the gate