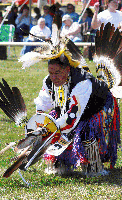 Open and Exhibition Dancing Featured at
the Andersontown Powwow
Grand Entries: Saturday 1PM & 7PM Sunday 1PM
Dancing: Saturday, 1:30PM, 7:30pm & Sunday, 1:30PM*

The Andersontown Powwow showcases open and exhibition dancing in the arena. The Powwow is an intertribal celebration and welcomes all dancers. Visitors can enjoy the beat of the Native American drums and learn native dances like the round, bean, two-step, stomp dances and more. Plus, learn about customs, clothing and traditions of many different tribes. Event goers are invited to dance in the arena. Intertribal dancing will follow immediately the grand entries.
*Times Approximate


Powwow Head Staff
Master of Ceremonies: Gabriel Ayala, Yaqui, Tucson, AZ

Arena Director: Michael Pace, Delaware, Bartlesville, OK

Southern Drum: Strong Heart - Mel Hoefling, Head Singer

Northern Drum: Kingfishers - Bill Huey, Head Singer

Head Man Dancer - Tony Castoreno, Lipan Apache

Head Lady Dancer - Monica Starr, Ihaktonwan Nation/Yankton Souix Tribe, Marty, SD